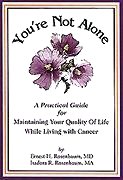 Steps For Improving Your Quality of Life
---
- 1. Conserve your energy for essential or pleasurable activities.

- 2. Work collaboratively with your medical team so that you can get the best possible medical and supportive care.

- 3. Avoid procrastination.

- 4. Set realistic, achievable goals.

- 5. Don't let mistakes debilitate or destroy you. move on.

- 6. Avoid negative thinking and self-destructive behavior.

- 7. Make end-of-life decisions, including writing legal and medical wills, and an Advanced Directive.

- 8. Take control. Even when your prognosis is not good, you still have choices.

- 9. Try to maintain your hope, endurance, faith, and courage.

- 10. Seek spiritual guidance from your faith, community, religious or inspirational readings, or other sources.

- 11. Acknowledge your need for psychological support and seek assistance from a professional counselor, pastor, social worker, or a wise friend or family member.

- 12. Learn new techniques to promote relaxation, such as yoga, tai chi, and meditation.

- 13. Engage in pleasurable diversions, such as art, music, hobbies, social events, and physical activities.

- 14. Give of yourself to others.

- 15. Strengthen your relationships by spending more quality time with family members and friends.

- 16. Recognize the sources of your anger and use techniques of forgiveness and mindful meditation to move on.

- 17. Try not to let your illness dominate your life.

- 18. Be willing to make the necessary compromises as you go through treatment.
We hope that this booklet will help you reach out and take advantage of the many resources available to you.
Remember, You're Not Alone !
Mastery of courage is the challenge.
Quality of Life is the goal!
Ernest H. Rosenbaum, MD



---

You are welcome to share this © article with friends, but do not forget to include the author name and web address. Permission needed to use articles on commercial and non commercial websites. Thank you.

---